2014 HR Hero Award Nominations!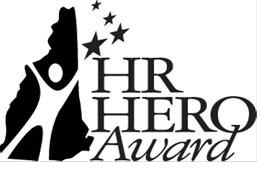 Dear HR Professionals,
Do you know someone who has made worthwhile contributions to the HR profession for their organization or community? Someone in the HR Profession that has made efforts to further the HR practice/profession and upholds the highest level of ethical standards? If someone comes to mind, why not nominate him or her for the 2014 HR Hero Award?
The HR Hero committee is pleased to announce applications for nominations for the 2014 HR Hero Award are now being accepted. Please see application below. If you have nominated someone in the past and they were not selected, it doesn't preclude you for nominating him or her again in 2014.
If selected, this person will be honored at the 16th Annual Granite State HR Conference that is to be held on April 29, 2014 at the Radisson, Elm Street, Manchester, NH.
Please send completed applications to: Debra Tuttle, PO Box 1551, Derry NH 03038, or email to Tuttled@hotmail.com. If you have any questions, please call Deb Tuttle at (603) 682-9971.
We look forward to your nominations!
Sincerely,
The HR HERO Committee
/sites/nhstatecouncil.shrm.org/files/attachment/Hero2014Nomination1.doc