Welcome to the HR State Council of New Hampshire!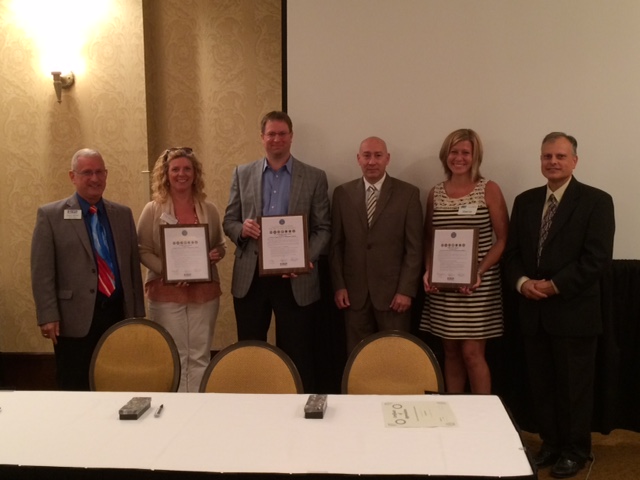 Pictured from left to right: VT ESGR Executive Director, David Wheel, VT State Council Director, Melissa Norman, NH State Council Director, Mike Klyop, NH ESGR Executive Director, Mike Pacheco, ME State Council Director, Marcia Benner, and ME ESGR Executive Director, Joe Sousa.
On August 6, 2015, Vermont, New Hampshire, and Maine HR State Council's signed the ESGR Statement of Support at the Tri-State HR Leadership Conference, held in Portsmouth, NH. The ESGR Statement of Support for the Guard and Reserve is the visible affirmation of the commitment that an employer makes to his or her citizen service members, and is the cornerstone of the ESGR efforts to create and enhance the relationship between the citizen service member and their civilian employer.
The plaque reads: We recognize the Guard and Reserve are essential to the strength of our nation and the well-being of our communities. In the highest American tradition, the patriotic men and women of the Guard and Reserve serve voluntarily in an honorable and vital profession. They train to respond to their community and their country in time of need. They deserve the support of every segment of our society. If these volunteer forces are to continue to serve our nation, increased public understanding is required of the essential role of the Guard and Reserve in preserving our national security. Therefore, we join other employers in pledging that:
We fully recognize, honor and comply with the Uniformed Services Employment and Reemployment rights Act (USERRA).
We will provide our managers and supervisors with the tools they need to effectively manage those employees who serve in the Guard and Reserve.
We appreciate the values, leadership and unique skills Service members bring to the workforce and will encourage opportunities to employ Guardsmen, Reservist, transitioning Service members and Veterans.
We will continually recognize and support our country's Service members and their families in peace, in crisis, and in war.
Upcoming Events
See All >
February 16, 2016 (All day)

February 18, 2016 (All day)

Speaker:   Peter Callaghan, Esquire

Breakfast

7:45 a.m. to 9:45 a.m.

For more information please go to:  www.hragc.org

 
From our Blog
See All >
Study Blog Announcement We are pleased to introduce a new joint effort between the HR State Council of NH and our NH SHRM Chapters to provide an online resource for HR professionals who are preparing for the PHR, SPHR, or GPHR exam for the December 1, 2011 through January 31, 2012...